A Woman's Place is Standing Her Ground
May 24, 2018, 7:00 pm

-

9:30 pm

£5.98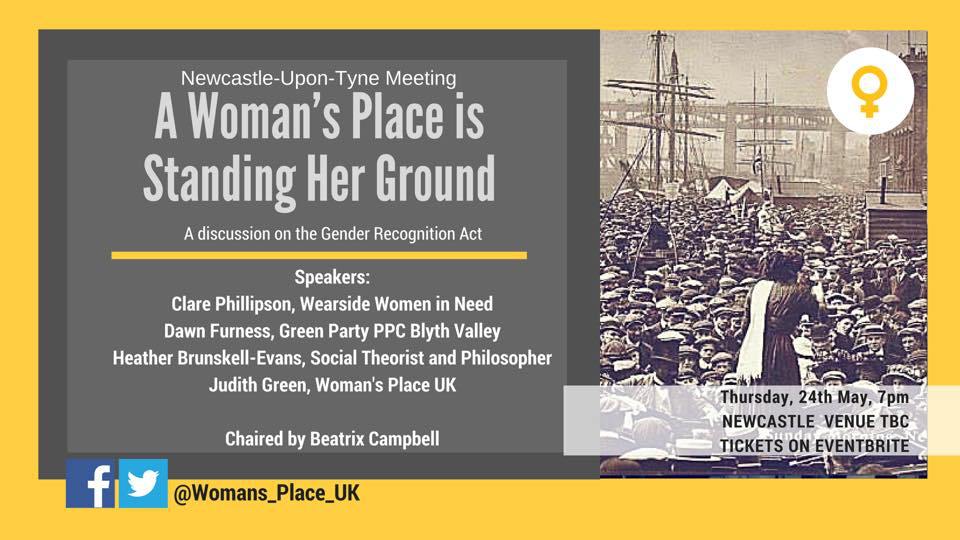 Public Meeting in Newcastle-upon-Tyne
7pm Thursday 24 May 2018 (Venue to be announced)
Clare Phillipson from Wearside Women In Need who has worked in Domestic Violence services for 37 years.
Heather Brunskell-Evans. Social theorist and philosopher. Trustee of FiLia, a new feminist charity and Director of its Stop Violence against Women and Girls section.
Dawn Furness. Prospective Parliamentary Candidate for the Green Party in Blyth Valley.
Judith Green. Service user of single-sex provision for survivors, speaking on behalf of Woman's Place UK which exists to promote women's voices being heard and consulted on changes to legislation, and to retain, extend and strengthen exemptions in Equality law.
Chaired by Beatrix Campbell OBE. writer, journalist and feminist activist.
The meeting will discuss proposed changes to the Gender Recognition Act 2004.
In July 2017 the government announced a consultation on their proposal to 'demedicalise' the process of changing gender, so that people can self-identify as the gender they choose, without any need for a medical diagnosis of gender dysphoria.
But what exactly is 'gender', and what will be the impact of self-identification on women and on women's rights?
Will this reform spell the end to single sex spaces and the provision of single sex services, such as those provided by rape crisis centres and women's refuges?

Will the changes make it harder to gather accurate data on the pay gap between men and women; on domestic violence against women; and on the health services women require?
Come and have your say on this controversial proposal.
Meeting hosted by Woman's Place UK
The Woman's Place UK Five Demands:
1. Respectful and evidence based discussion about the impact of the proposed changes to the Gender Recognition Act to be allowed to take place and for women's voices to be heard;
2. The principle of women only spaces to be upheld – and where necessary extended.
3. A review of how the exemptions in the Equality Act which allow for single sex services or requirements that only a woman can apply for a job (such as in a domestic violence refuge) are being applied in practice;
4. Government to consult with women's organisations on how self-declaration would impact on women only services and spaces;
5. Government to consult on how self-declaration will impact upon data gathering – such as crime, employment, pay, and health statistics – and monitoring of sex-based discrimination such as the gender pay gap.